The Town Council's Community Awards were launched in 2011 to celebrate the people who make a difference to the Corsham community. Over the years, clubs, groups, hard-working volunteers, young people and local sports stars have all been recognised.
The search for award-recipients runs from January to March, when nomination forms for that year's competition are available. The nominees are then considered by the Awards Panel, made up of four Town Councillors, who choose the winners. The certificates are handed out at a special Corsham Celebrates event (previously the Annual Town Meeting) in April.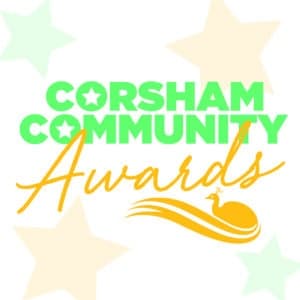 The winners of this year's Awards were officially announced at the Corsham Celebrates event on Thursday 20 April 2023. They are: Julian Barefoot for his work with Freewheelers ESV Blood Bikes; Corsham Baptist Church's Colin Whiting and the Souper Friday team; John Connelly for his work with Corsham Bowls Club; Karen Viner for being the driving force behind Corsham Community Club; Chris Denton, Chair of Governors at Corsham Regis Primary School, and Sonia Blandford and Corsham Windband for bringing their music to Corsham for over four decades.
Steve Drew, Chairman of Corsham Churches Foodbank, received a special Chairman's Award for his inspirational work supporting both the Foodbank's volunteers and the clients who use its services.
2023
Julian Barefoot – Freewheelers Blood Bikes
Colin Whiting and the Souper Friday Volunteers
John Connelly – Corsham Bowls Club
Karen Viner – Corsham Community Club
Chris Denton – Chair of Governors, Corsham Regis Primary School
Sonia Blandford and Corsham Windband
Steve Drew – Corsham Churches Foodbank (Chairman's Award)
2022
Judith Hible – Public Rights of Way
Lynda Ormandy – Corsham Cricket Club
Nikki Kenna – Fairtrade
Peter Harper – Corsham Climate Action/Community Garden
Hilary Light – Corsham Link (Chairman's Award)
2021
Corsham Churches Foodbank
John Maloney – Corsham Historian/Civic Society
Chris Reid – Almshouses Trustee and Community Work
Natalie Sherman – Wiltshire Digital Drive
2020
John Bolland – AFC Corsham
Julian Carosi – Corsham Historian
Barry Cox – Services to Walking Projects
Phyllis Fry – St Bart's Verger/Local Volunteer
Zahid Mahmood – Corsham ASC
Sharon Shackleford – Helping Local Families
2019
Sanjeevan Garcha – Barnett Bros
John Gale – Corsham Cricket Club
Peter Greenwood – Corsham Cricket Club
Jane Roberton – Transcoco/Clean Up Corsham
Corsham 2k and 10k Committee
Mark Unwin – Corsham Fire Service
2018
Jean Hartley – Volunteering roles in Neston/Corsham Link
John Price – Volunteering roles with young people/Corsham Town FC
Leonora Martin – Volunteer work in the creative arts, particularly the Peacock Arts Trail
Rodney Veazey and the Brunel Shed