All Armed Forces Units, Corsham
At a special meeting on 8 March 2010, Councillors unanimously voted to mark the tenth anniversary of the formation of Corsham Town Council by granting the first ever Honorary Freedom of the Town to all Armed Forces Units in Corsham.
Conferring the Freedom of the Town was in recognition of the Armed Forces' historical connections with the Town and the special relationship between Corsham and the Ministry of Defence. Having the Freedom means that all Armed Forces Units, Corsham, 'are entitled to march through the Town on occasions with drums beating, colours flying and bayonets fixed'.
The official scroll granting the Freedom of the Town was presented on Armed Forces Day, 26 June 2010, at a ceremony at the Town Hall. The ceremony was preceded by a march through the Town by the Armed Forces and followed by a celebration at Springfield Recreation Ground to mark Armed Forces Day, with Corsham's Fete running at the same time.
Councillor Allan Bosley, the then Council Chairman, said at the time, "Corsham and the Armed Services have an association that has lasted almost 100 years and that unique relationship between the Town and the three Armed Services is set to continue with the MoD's investment in new facilities at Basil Hill and the concentration of the MoD's communication function at Corsham. The many Forces personnel who live and work in the Town make a material difference to Corsham and what happens here.
"The fact that the Ministry of Defence is here at all is a result of the distinctive quarrying history of Corsham and the surrounding areas, and the underground workings have been a catalyst to attracting all three Services who have used the space for operational control, manufacturing, and military storage over the years.
"The Town Council regards the commitment of the MoD and the Armed Services to Corsham as a privilege, and as an opportunity to work together to the benefit of the people of Corsham on many levels. Granting the Freedom of the Town was a unanimous decision by Councillors and a fitting tribute to mark both our long association and the tenth anniversary of the Town Council."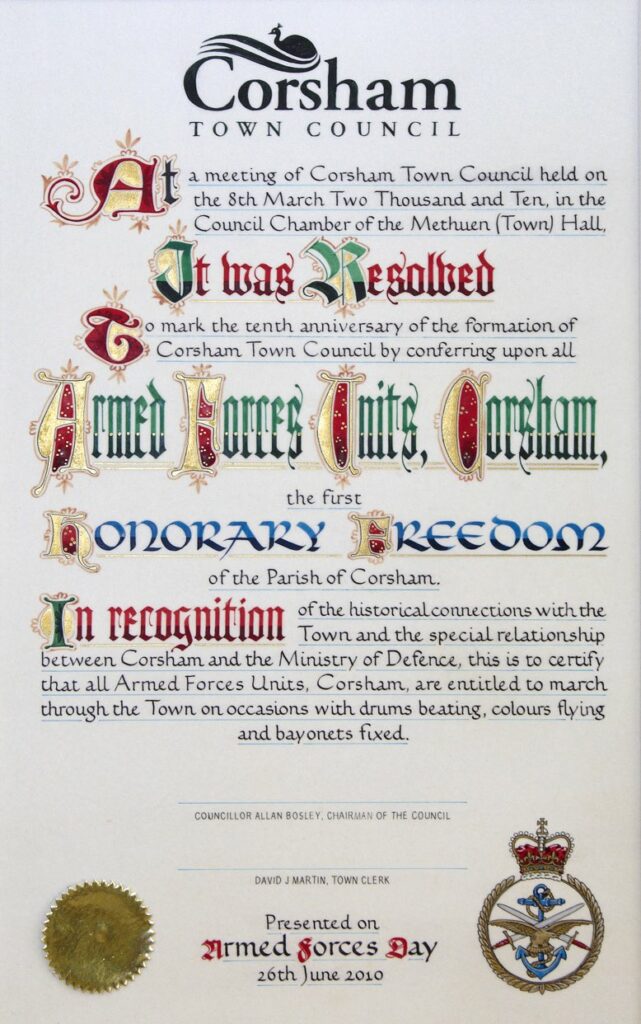 On 2 March 2013, Corsham-born Paralympian Stephanie Millward was presented with the Freedom of the Town, the first individual to receive the honour. The Freedom was presented by Town Council Chairman Cllr Peter Anstey in recognition "of her magnificent sporting success at the London 2012 Paralympics, and her contribution to local amateur swimming". Stephanie's presentation took place outside the Town Hall and followed a parade, with Stephanie at its head, that included members of Corsham Swimming Club and children from the local schools.
Awarded an MBE in the New Year's Honours List 2017 following her success at Rio 2016 (including two Gold medals), Stephanie was honoured again by the town in February of that year when it was agreed that the swimming pool at Springfield Campus be named after her.