At The Heart Of The WW1 War Committee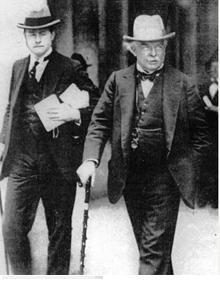 Albert James Sylvester was born in Harlaston in Staffordshire in November 1889 the son of Albert and Elizabeth Sylvester, his father Albert was a tenant Farmer. He left school at the age of 14 to work in a local brewery but was astute enough to learn Pitman's shorthand and touch typing. So from humble beginnings Albert progressed to the point in 1911 when he was living in London and working as a professional speed typist. Those specialist skills were obviously recognised and sought after and he went on to play an integral role in World War 1 as private secretary to the Secretary to the Committee of Imperial Defence between 1914-1921, to the Secretary of the War Cabinet and the Cabinet between 1916-1921 and to the Secretary of the Imperial War Cabinet in 1917. He would have been at the very heart of all major decisions relating to the War and dealing with all of the war leaders. He was reported to be the first man to take shorthand notes at a Cabinet meeting and in respect of World War 1 he recalled how he had typed the First World War Armistice Terms on his own Underwood typewriter and was personally entrusted by the Government to carry those documents to France in his briefcase.
Albert married Evelyn Annie Wellman from Kingston on Thames and the daughter of a Baptist Minister, in 1917 and continued his service working to the British Secretary of the Peace Conference in 1919 and impressively then going on to serve three successive Prime Ministers between 1921-1923: David Lloyd George, Andrew Bonar Law and Stanley Baldwin. Remarkably he then served as Principal Private Secretary to David Lloyd George from 1923 until his death in March 1945 – 22 years running Lloyd George's private office in London. This time would have included meetings between Lloyd George, Hitler and Hess in Germany in 1936. After Lloyd George's death, Albert earned his living as a member of Lord Beaverbrook's staff from 1945 until 1948, and spent a further year as unpaid assistant to Liberal Party leader, E. Clement Davies. In 1947, he published The Real Lloyd George, a book based on his diaries and in 1949 when he retired from political life he chose to move with his wife to Wiltshire and moved to a farm at Chapel Knap in Corsham. In later life he moved to Gastard House and then to Rudloe Cottage in Box carrying with him his publicised ambition to publish a full-scale autobiography but this was never realised. He was living in Rudloe Cottage in 1962 when his wife Evelyn died. He did complete a second book in 1975 called Life with Lloyd George but he did not complete the story of his own life. There are however diaries and personal papers now owned by the National Library of Wales which must provide a unique insight into the personal life of Lloyd George. Albert lived to the age of 99 and died in October 1989 just weeks before his hundredth birthday.
The following articles are from the Gastard News and give further personal insight into his later life.
From Donald Carpenter.
Albert James Sylvester CBE JP 1889 -1989
I have two typewritten notes sent to my father in the late 1940's by Mr. A.J.Sylvester. He owned the land that is my home, Chapel Knap Farm, Timberleaze Cottage and what are now 5 and 6 Chapel Hill. He also owned Gastard House for some time. He was an excellent and generous landlord taking a keen interest in the farm and the local environment.
What is particularly special about the notes is that they were typed on the same Underwood machine that saw the tumultuous events of WW1, for Albert Sylvester was the first person to record the Cabinet meetings in 10 Downing Street. He was summoned there in 1914, from his secretarial work in the Admiralty, and rose to become private secretary to three Prime Ministers: David Lloyd George, Bonar Law and Stanley Baldwin. In his time he met and worked with the greatest people in the land including Lord Kitchener, Beaverbrook and Churchill. He remained a close companion to Lloyd George working as his private secretary – 'recorder and keeper of secrets for 22 years', and he used the same typewriter throughout his working life.
Some people in Gastard may remember Mr Sylvester for in later years he lived in Rudloe Cottage, Box where he attained the great age of 100 years. He started working at the age of 14 in a Staffordshire Brewery but he then taught himself Pitman's shorthand and the skill of touch typing. He was a truly remarkable person, 'Rising' as he said, from a peasant background to become the most trusted custodian of state affairs in the country.' Not only did he attain this distinction but he was also awarded the CBE, was a Justice of the Peace, champion golfer, horseman, writer and at the age of 87 a prize ballroom dancer. It was a privilege to have known him.
A follow on piece from Ian Thompson:
I was interested to read the item in September's newsletter by Donald Carpenter regarding Mr. Sylvester of Rudloe.
I had the pleasure of having several conversations with Mr. Sylvester and recall him telling me how he had typed out the First World War Armistice Terms on his Underwood typewriter. He related how he was entrusted by the Government to carry the Armistice Terms over to France in his briefcase.
This connection with Corsham is of particular interest; this year being the 100th anniversary of the outbreak of WW1.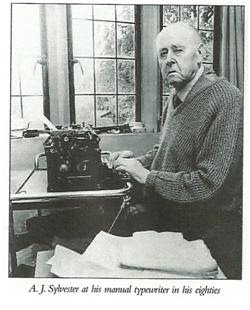 The story of Albert Sylvester is continued in the book Corsham Revealed More written by Julian Carosi.