Commemorating Corsham's Red Cross Hospital and how the town took it to their hearts
On 26 October 1914, just weeks after Britain had entered the First World War; Corsham's Town Hall was converted into a Red Cross Hospital. For almost the next five years, until 30th August 1919,- the Hospital, which was manned by Red Cross nurses and local volunteers, cared for a regular stream of soldiers allocated to Corsham to recover from injuries or stress related illnesses. Corsham Red Cross Hospital did not receive seriously wounded soldiers nor did it carry out operations or deliver specialist treatment but it housed 90 beds at the height of its use and reportedly received 875 soldiers in the time that it was open.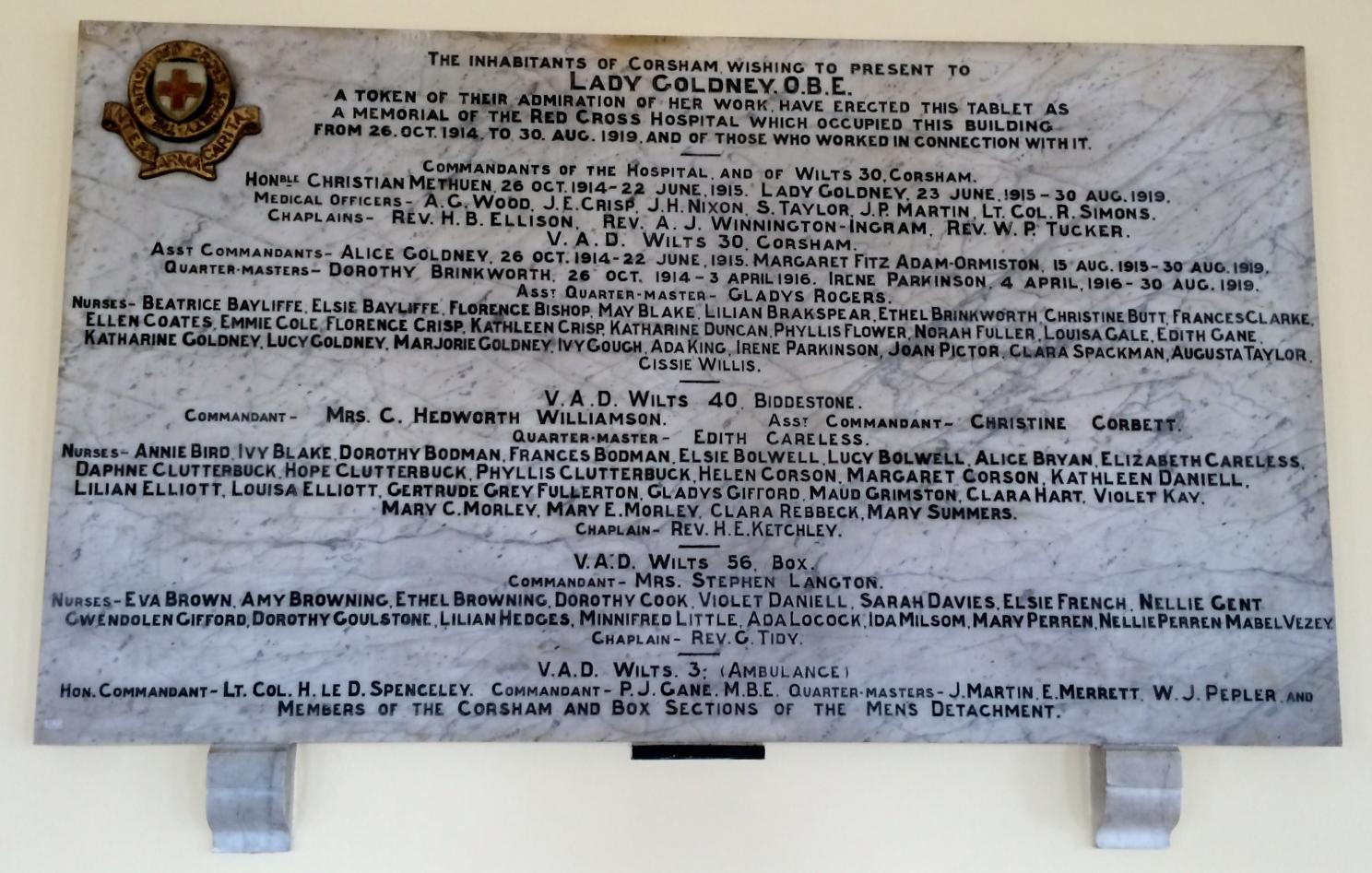 The Town Hall still has a memorial plaque commemorating the Hospital and naming the mainstay hospital staff but that was clearly but part of the story. 'Above and Beyond' was the title given to the Corsham Commemorates project which explored and commemorated the deeper history of the hospital brought together using newspaper reports, local books, service records and nurses' diaries – all to tell the story of the hospital – and how the people of Corsham took it to their hearts.
In October 2016, the project culminated in an exhibition at Corsham Town Hall; an exhibition made more poignant as it was curated in exactly the same location as the hospital was established 100 years earlier. As well as an opportunity to have all of the researched information on display, the Main Hall of the Town Hall travelled back in time and recreated the hospital ward that the patients would have seen it all those years ago.
The project was well received and supported by the Town and it was also visited by BBC Wiltshire featuring on the local news. You can watch BBC Wiltshire's coverage of it here which shows how the Town Hall was transformed.
The text from the exhibition has not been available since the October 2016 exhibition but it is now available to download here.
Red Cross Hospital Nurses and Staff
Many of the senior Nursing staff at the Hospital were allocated and posted by the Red Cross but junior and day nurses were likely all recruited from the area and they were crucial to the running of a well respected and successful hospital under the supervision of firstly Lady Methuen and then Lady Alice Goldney. A list of Nurses and volunteers has been built largely from Red Cross service records. The list tells a compelling story of the commitment of the staff and the volunteers and the amount of accumulated time and effort committed to the hospital.
If you have any photos, stories or artefacts relating to the hospital or to the nurses then please get in contact through the Corsham Town Hall on 01249 702130 or through this website, we would love to add to the story and develop our research further.