One of the emerging stories from research of the Corsham area during 1914 – 1918 is the unswerving and generous support of local women for servicemen at the front and for hospital patients and refugees who were resident in the area.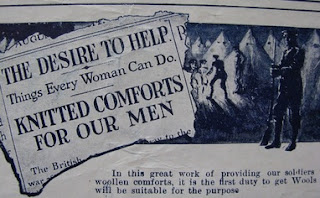 The article quoted below comes from the Devizes and Wiltshire Gazette Newspaper published on 20th November 1914.
Towards the end of October, a parcel containing 118 knitted belts and 138 pairs of socks was sent as a contribution from the women of Corsham towards the gift from the Queen and women of the Empire to the troops at the front. By command of the Queen a gracious letter of thanks was sent to all who had contributed, these included knitters from Slaughterford, besides some of the Belgian refugees in Corsham. Special belts have been made to suit the needs of the Indian soldiers. The next effort the Corsham women propose to make is to provide as many flannel shirts, socks, mittens, and mufflers as they can for our soldiers and sailors on active service, and any help towards this end, in work, money for materials, or kind, will be gladly welcomed. Particulars from Miss Haynes, Corsham.

Knitting for the troops was a heavily publicised campaign to encourage women to support the servicemen away on active duty – there are patterns for socks, mittens, gloves, balaclavas, leg warmers – even waistcoats for officers.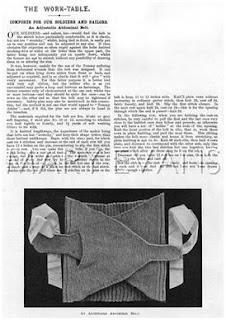 We are trying to find out all we can about the Corsham WW1 Knitters.
If you have any artefacts or information that might help, please get in touch!